Strašno proročanstvo koje predviđa mnoge događaje koji nas tek čekaju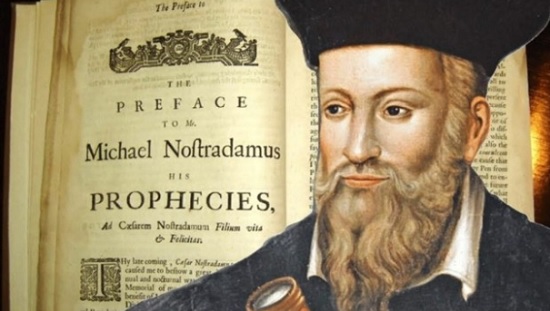 Dobri poznavaoci proročanstva kažu da je Nostradamus predvideo veoma težak period, koji nam se opasno približava. Dr Trifko Guzina, čovek koji je dešifrovao najviše Nostradamusovih misli i među najboljim poznavaocima radova ovog proroka, tvrdi da će nebo biti glavno za sudbinu čitavog čovečanstva i dovešće čak do Trećeg svetskog rata!
"Jedno od najupečatljivijih proročanstava detaljno sam analizirao u okviru centurije katren 433 i ono predstavlja uvod u jedan novi ciklus", kaže Guzina.
"To će biti period u kojem će "Nebo suditi čovečanstvu". Prema mojim izračunavanjima, uz primenu Pitagorejske geometrije, on je već počeo 2010. i trajaće do 2024. godine. To je ciklus koji će biti od najvećeg značaja za ljudski rod"!
Period kada nebo sudi čovečanstvu traje do 2024.
Kako objašnjava Trifko Guzina, u Nostradamusovim proročanstvima jasno je video dramatične kosmičke događaje u mehanici zvezda, planeta i kometa koji će tokom ovog četrnaestogodišnjeg perioda uzrokovati perturbaciju (poremećaj, pometenost, zbrka, zabuna, nemir; perturbacije pl. astr. poremećaji, odstupanja u putanjama nebeskih tela, ili odstupanje od Keplerovih zakona koja pokazuje tok jednog tela Sunčevog sistema, planete, komete ili Meseca, naročito našeg Meseca, usled istoimenog privlačenja ostalih tela) na zemljinoj kugli, uz ogromne promene u organizaciji država i naroda.
Kosmički događaji uticaće na promene u organizaciji država i naroda
"Važan deo ovog ciklusa vidljivog Suđenja neba odnosi se na vazdušna oružana dejstva, i taj proces se uveliko odigrava pred našim očima u državama severnog dela Afrike i Bliskog istoka", nastavlja dr Guzina.
Ciklus (od 2010. do 2017) već je obuhvatio mučno ubistvo Gadafija, a srušen je Mubarak i preti mnogima poput marokanskog kralja, Bašaru el Asadu, kao i mnogim drugim državnicima u Jemenu, Sudanu, Iraku, Iranu, kao i u zemljama subsaharske Afrike i u Emiratima.
Nažalost, na mesto ovih umerenih islamskih vladara na vlast će doći militantni islamisti i njihove grupe poput vehabija i Al Kaide. Sve to bi moglo da dovede do Trećeg svetskog rata pod vođstvom trećeg antihrista.
"Prema mojim proračunima, on će početi 2029. godine! Tokom procesa dekodiranja Nostradamusovih ostalih najava shvatio sam da će taj rat islama protiv hrišćanstva trajati do 2056. godine",kaže on.