Lucy Hellein iz SAD-a najprije se šokirala što je uopće trudna jer je stavila hormonalnu spiralu protiv trudnoće, a još veće iznenađenje je bilo kad su joj donijeli bebu s njenom spiralom u ruci
Ova fotografija proširila se internetom kao vihor. Samo na Facebooku je podijeljena više od 70.000 puta. Prizor je nevjerojatan – novorođenče s majčinom spiralom protiv trudnoće u rukama. Kao da želi poručiti da je jači od tog komadića.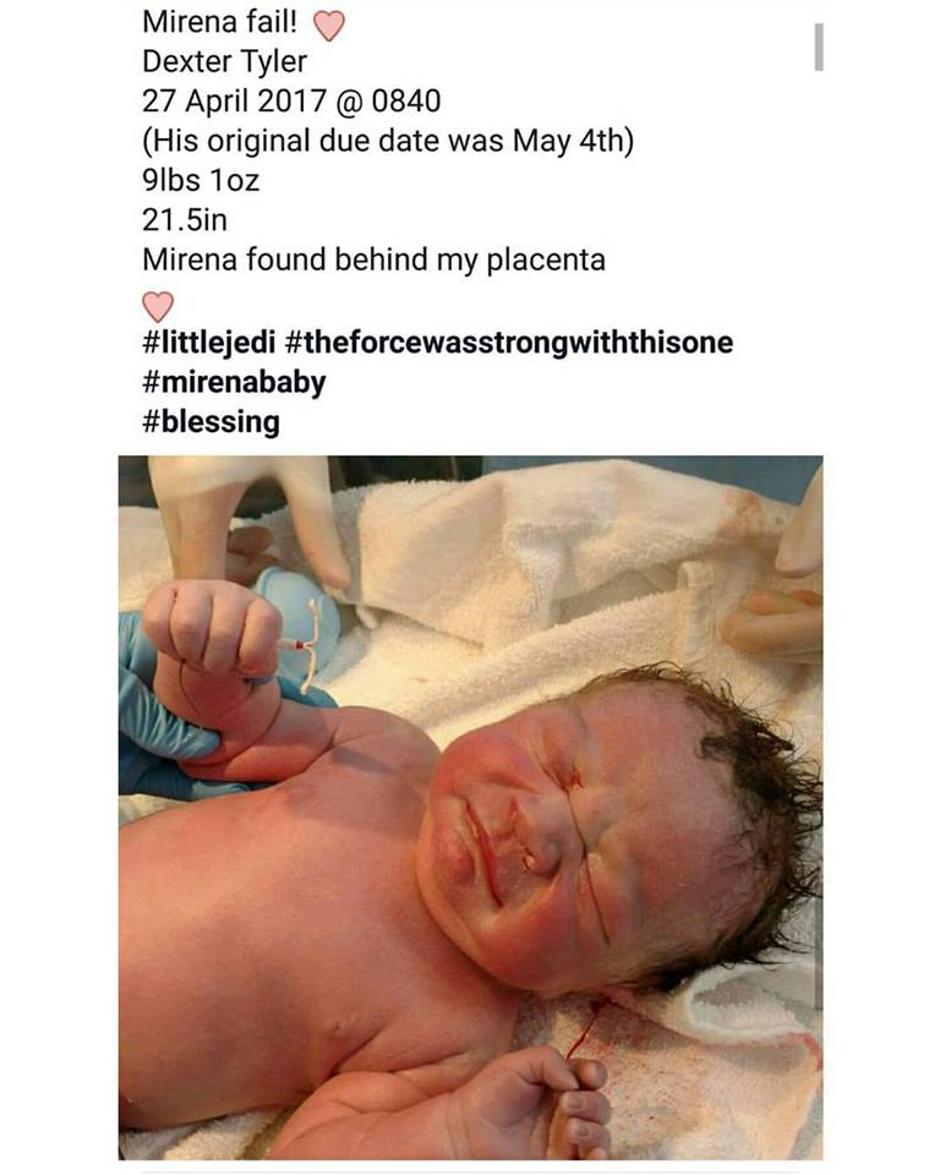 Lucy Hellein iz Alabame u SAD-u šokirala se kada je vidjela da njezin tek rođeni sin u ruci drži njezinu hormonalnu spiralu koja je trebala spriječiti trudnoću. Babice su ušle u sobu, a mališan je to imao u rukama.
– Iako nisam planirala ovu trudnoću, moja obitelj i ja smo jako blagoslovljeni Dexterom – kazala je majka.
Ginekolog je Lucy stavio spiralu u kolovozu prošle godine. Da je trudna 18 tjedana saznala je prije Božića, što znači da je zatrudnjela nekoliko dana nakon umetanja spirale u njezinu maternicu.
Dok je bila na ultrazvuku, spirala se nije vidjela pa je liječnik pretpostavio da je ispala. Ali, nije, zapravo se skrivala iza maternice. Mališan se rodio 27. travnja, tjedan dana prije termina. Iako se u početku širila priča da je mališan rođen sa spiralom u ruci, Lucy je poslije ispričala da to nije istina.
Rodila je na carski rez, a budući da su liječnici našli spiralu iza maternice, babice su je bebi stavile u ruku i tako ga donijele mami.
Da ne bi opet neplanirano ostala trudna, Lucy je podvezala jajovode.
Iako je u trenutku pisanja teksta, Lucyin Facebook profil bio aktivan, s kojeg smo direktno i embeddali fotografije mališana, do večeri je ugašen.