Nakon vesti da Hari i Megan Markl očekuju prinovu, Megan Markl oglasila se i na svom Instagramu, sledećom fotografijom.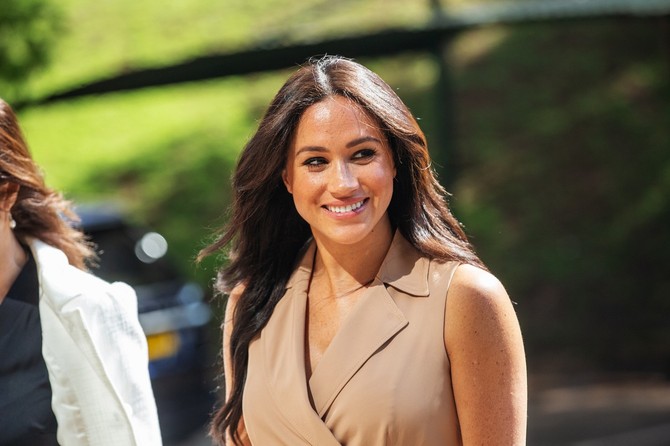 – Budite vaš lični Valentin – počela je svoj post, baš na Dan zaljubljenih, a onda nastavila:
– Nadam se da svi lepo provodite Dan zaljubljenih, u društvu ili sami. Čudno je kako ovaj praznik budi toliko emocija u ljudima – od sreće i zaljubljenosti do usamljenosti. Međutim, Dan zaljubljenih, sa svojim pričama o Kupidonu, sa svojim čokoladama i ružama i slatkišima radi upravo to. Dok su parovi ušuškani, samci padaju u očaj i usamljenost. Ali ne mora da bude tako. Budite svoj lični Valentin. Skuvajte divnu večeru, čak i ukoliko ste sami, obucite omiljenu odeću, kupite sebi cveće i proslavite ljubav prema sebi koju tako često zaboravljamo kada se fokusiramo na ono što nemamo – glasi post Megan Markl koji je objavila pre sat vremena.
Ispod se, pak, nižu čestitke na prinovi. A Megan je, podsetimo, u srceparajućem eseju opisala svoj pobačaj. Ona je, podsetimo, otkrila da je u julu imala pobačaj i da je to bio "osećaj gotovo nepodnošljive tuge".
"Dok sam grlila moje prvo dete, znala sam da gubim drugo", napisala je Markl u tekstu objavljenom u dnevnom listu Njujork Tajms.
Navela je da je jednog julskog jutra osetila "oštar grč", a nekoliko sati kasnije, iz bolničkog kreveta gledala je "kako se njenom mužu slama srce dok on pokušava da sakupi smrskane delove njenog".
Tridesetdevetogodišnja Megan je govorila o sopstvenom iskustvu kako bi motivisala druge da češće pitaju bližnje da li je sve u redu tokom Dana zahvalnosti, američkog praznika.
"Gubitak deteta donosi gotovo nepodnošljivu tugu – to iskustvo su mnogi doživeli, ali su retki govorili o njemu", napisala je vojvotkinja.
"Dok smo tugovali zbog gubitka, suprug i ja smo otkrili da u prostoriji u kojoj ima 100 žena, 10 do 20 njih je imalo pobačaj".
Ali razgovor o tome i dalje predstavlja tabu temu, piše Megan.
"Protkano neopravdanim osećajem stida, one su se se zatvarale u krug tugovanja u kojem su taj bol podnosile same".
"Neke su hrabro podelile sopstvena iskustva, otvorile su vrata znajući da ako jedna žena govori istinu, to daje dozvolu i nama ostalima da uradimo isto", dodala je vojvotkinja.