Neutešno je plakala
Džejk Resig iz Pitsburga izgubio je suprugu Elizabet još 2010. godine. Do tada su bili nerazdvojni, pa mu je bilo nezamislivo da bez nje nastavlja život.
Nakon što je prebrodio sve psihičke barijere pronašao je neki model po kome bi mogao dalje da funkcioniše. Jedna od svakodnevnih rutina mu je pre bila da supruzi uvek po povratku iz prodavnice kupi po jednu ružu.
Taj ritual preneo je i na lokalno groblje posećujući njen grob sa ružom u rukama. Jednog prepodneva primetio je mlađu ženu kako plače nad grobom sina. Ispostavilo se da to nije bio sin već njen mlađi brat Džozef koji je tragično nastradao na Bliskom istoku.
"Imao je samo 22 godine. Ceo život pred sobom. Verovao je da čini dobro za svoju zemlju što ide na područje koje nije ni trebalo da ga se ikada tiče", rekla je sestra Marija.
Džejk Resig je narednih dana primetio i majku tragično nastradalog mladića kako dolazi na groblje i plače na licu mesta. A onda se razbolela i nije dolazila neko vreme. Džejk je došao na ideju, osećajući njihovu bol kao svoju, da uradi makar jedan lep gest.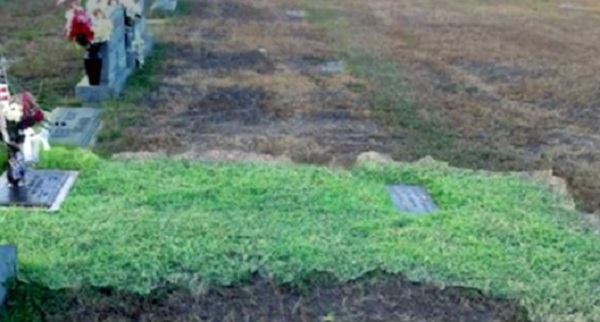 Svakog dana zalivao je zemlju nad grobom Džozefa Viljasenjora. Posle mesec-dva na tom mestu je nikla trava, pošto je u tom periodu bilo dosta suvog vremena kraj Pitsburga. Kada se majka mladića Belen oporavila i došla na groblje imala je šta da vidi.
Džejk je bio pedesetak metara dalje, kod groba supruge. Žena mu je prišla i pitala kako to da samo na grobu njenog sina postoji trava.
"Osetio sam svu vašu bol. Nije mi bilo svejedno. Pomislio sam kako bi se ja osećao da je moj sin, ne daj Bože tako nastradao. Tako da sam uzeo kanticu i zalio sam zemlju kod vas. I tako svakog dana – mojoj supruzi ruža, a vašem sinu voda da ne bude žedan i da bude lep grob", rekao je Džejk.
Žena je tek tu briznula u plač i zahvalila mu se na brizi i nesebičnom ljudskom gestu.