Supruga, sestra i majka dva dečačića Nataša Nedić (32) do pre tri godine išla je samo tri puta godišnje kod lekara, ne sanjajući da će uskoro u čekaonicama zdravstvenih ustanova i bolničkim sobama provoditi više vremena nego kod kuće.
Dva meseca nakon jedne od redovnih kontrola, koja je pokazala uredne rezultate, dobila je dijagnozu: "Neuroendokrini karcinom Lardž sel". Od tada prošla je kroz brojne izazove i probleme, a do potpunog ozdravljenja deli je samo nekoliko meseci.
– Samo jedan posto žena u celom svetu oboli od tumora ovog tipa, a dijagnoza znači da je lečenje, u najmanju ruku, otežano. Ja sam ga započela pre tri godine. U decembru 2018. dobila sam potpuno uredne nalaze, došlo je do odsustva bolesti – kaže nam Nataša iz Sremske Mitrovice.
Pet meseci kasnije, u maju 2019. lekari za nju nisu imali dobre vesti. Karcinom se vratio agresivnije nego prvi put.
– Pojavili su se tumori u abdomenu, jedan je težio 2 kilograma, na jajniku, na oba uretera i preko 20 tumora na oba plućna krila, 2019. izvađen je najveći i njegove brojne metastaze iz abdomena – govori majka.
U tom periodu prošla je kroz tri operacije, 25 radiohirurgija, 15 hemioterapija, 16 bioloških terapija, izvađeno joj je 60 limfnih čvorova, 50 centimetara creva. Zatim, zaradila je 17 centimetara dugačak ožiljak preko stomaka, primila 100 litara infuzije i 6 transfuzija, 25 puta bila na skeneru, provela 65 dana u bolnici i dva puta morala da obrije glavu. I pored svega ovoga, njenoj sreći nije bilo kraja.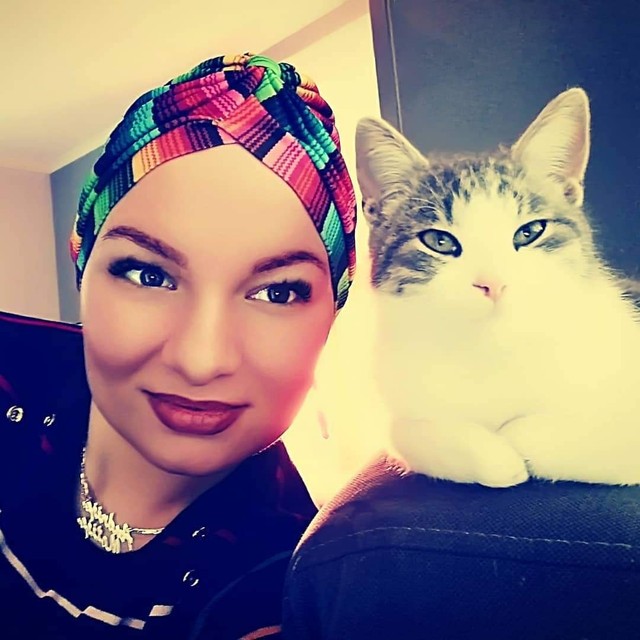 – Nakon svega, bila sam presrećna jer sam konačno dobila potvrdu da terapija postoji i to u Beogradu. Nisam morala da letim na drugi kraj Evrope, da budem odvojena od dece i skupljam novac za avionske karte i troškove boravka u inostranstvu. Moja sreća u nesreći je bila ta što nisam morala da platim sve unapred, nego terapiju po terapiju. Nakon toga sledi sudbonosna kontrola i dodatni skeneri – govori Nataša.
"Nisam sama, svi ste bili tu za mene"
Zahvaljujući donacijama iz fondacije Budi human, čiji je korisnik, nedavno je primila prvu terapiju i dobro se oseća. Druga sledi za desetak dana, a treća 21 dan posle nje, a potom treba da ih usledi još 7, a svaka od njih košta 5.500 evra. Prva je u potpunosti finansijski pokrivena, druga kao pozajmica, za treću je prikupljeno već pola novca… I to je sve.
– Za nas onkološke pacijente, terapija mora da bude agresivna zbog progresivne prirode bolesti. Metastaza znači promena u hodu. Ne znate kuda kroz vaše telo bolest ide. Danas imate jedne nalaze, sutra druge, a mogu da budu bez promena i posle godinu dana. Zato je važno momentalno gašenje žarišta, a taj jedan momenat košta mnogo novca i nikada ne znate da li će uspeti – priča nam Nataša.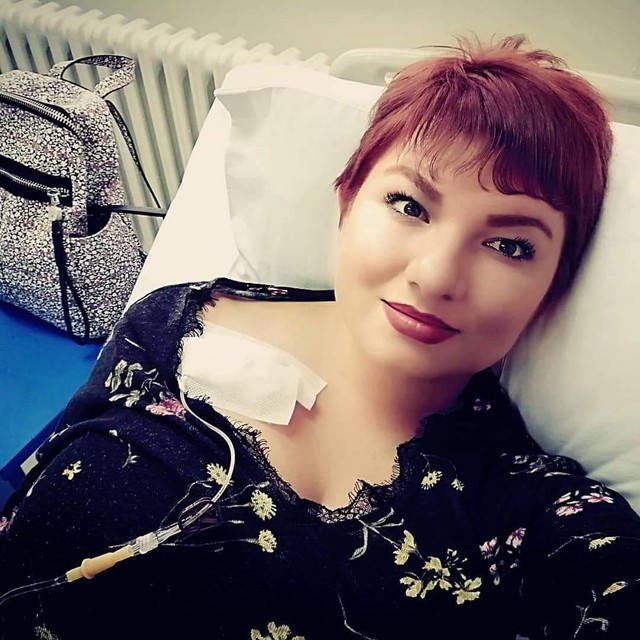 Njen najveći neprijatelj je vreme, ako i malo zakasni sa terapijom, prethodni efekat se poništava i lečenje gubi smisao. Za sada ne sme da razmišlja o mogućnosti da ovi ciklusi terapija ne urode plodom, već bitku bije hrabro, svakodnevno.
– Nama, onkološkim pacijentima, glave su bukvalno ucenjene. Moja košta tri miliona dinara, a mnogo nas je. Mi stariji smo se često povlačili, zarad druge dece. Ili su drugi molili za nas. Verovatno bih i ja učinila isto, da mi nije moje dece. Ne borim se samo za sebe, nego i za njih. I borim se i za druge žene, majke, sestre, ćerke, prijateljice, rođake… Međutim, sve je više nas "nerešivih" slučajeva. Čuda prirode, šta li smo. Da bismo se 100% rešili repova bolesti, a da porodice ne proglase bankrot, naše slike i priče su završile na sajtu Fondacije i svako je dobio svoj redni broj – govori skromna Nataša.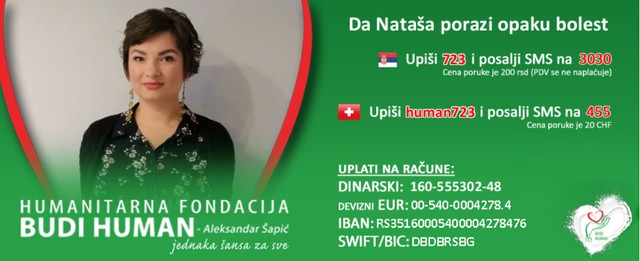 Ona je pre tri godine dobila broj 723 i uskoro kreće u trku protiv vremena koja znači da svakih 21 dan preskače po jednu preponu vrednu 5.500 evra. Za tu trku, potrebni smo joj mi.